New midtown construction project is another low-rise chain hotel
The Aloft hotel will be constructed less than a mile from "hotel row"
Yesterday, JL Properties announced that the strip mall currently being razed on the SW corner of 36th Ave and C street will be replaced with a "$16M high-tech hotel" by Aloft Hotels, a Marriott International franchise.
The Aloft franchise caters to younger travelers, however, the area seems to be the total opposite of what young tourists are looking for. This hotel will be located in a car-centric area of sprawl development divided by a high-speed thoroughfare with a gas station across the street.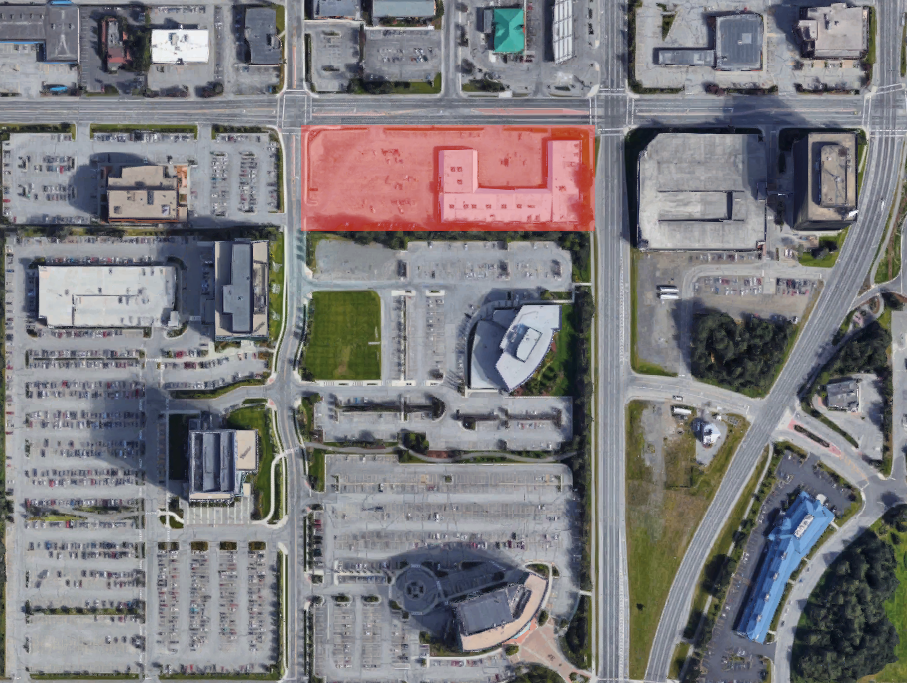 This area of midtown is awash in strip malls, massive parking lots, office parks and notably, chain hotels. To be exact, there are 16 other low-rise chain hotels within one mile of this property:
SpringHill Suites by Mariott
Staybridge Suites
Extended Stay America Midtown
Towne Place Suites by Mariott
Embassy Suites by Hilton
La Quinta Inn & Suites
Hyatt House Anchorage
Crowne Plaza Midtown
Home 2 Suites by Hilton
Homewood Suites by Hilton
Hilton Garden Inn
Aspen Suites Hotel
Hyatt Place
My Place Hotel
Best Western Golden Lion
Residence Inn by Mariott

In a previous article, I pointed out that this area is ideal for high-density housing and with pedestrian improvements, it could be a very walkable neighborhood for residents and maybe even tourists (someday) but as-is, the area offers very little to visitors with respect to originality or authentic experience, with only a few exceptions, particularly: Uncle Leroy's Coffee and Zip Kombucha.
The Aloft Hotel project does have the unique value proposition of being closer to some of the high rise office towers in the area (also owned by JL) than the other 16 hotels and being a slightly more upscale option than most to better serve surrounding office buildings. In that regard, it may have been better to build it on any of the roughly 700,000 SF of surface parking lots owned by JL Properties just a few hundred feet from this site.
Ths project is also leveraging federal tax incentives for areas designated as Qualified Opportunity Zones.
From the US Economic Development Administration:
An Opportunity Zone is an economically-distressed community where private investments, under certain conditions, may be eligible for capital gain tax incentives.

Opportunity Zones were created under the 2017 Tax Cuts and Jobs Act, signed into law by President Donald J. Trump on December 22, 2017, to stimulate economic development and job creation, by incentivizing long- term investments in low-income neighborhoods.
Considering the benefits this will bring to the community takes some creative thinking. Most hotel jobs are near minimum wage and this property will add a significant amount of vehicle traffic to an already congested corridor. This hotel helps meet Anchorage's demand for hotel rooms, which is growing thanks to the hard work of our visitor industry but this hotel also reduces demand for downtown hotels where they're needed most.
The developers have stated that the hotel will host monthly live music events by local artists which sounds nice but in reality, it will only serve to take opportunities away from the many locally owned, independent venues that depend on these events to bump up food and beverage sales.
intrinsic.city supports sustainable and responsible development, density and a growing Anchorage economy. It is not my intent to discourage investment in our city but rather engage our community in a discussion about what kind of development we want for ourselves, what adds vibrancy and draws people and investment to our city and what discourages it.
Featured Image: Demolition at the site of planned Aloft Hotel – Mikhail Siskoff CC BY